Pressure Washing Services Vancouver, BC
Hydro Tech Power Washing offers industry-best industrial and commercial power washing services to the Vancouver area. We are a true mobile power washing company, with trucks that are fully-equipped with water tanks, allowing us to work in even the most remote locations. Give us a call today to see how we can help you restore your business or equipment to a like-new condition.
Professional
Insured
Mobile
Power washing has been shown to be one of the most effective, and safest, ways to conduct underwater pile cleansing and subsea caisson cleaning, while leaving your anti-fouling paint intact so you that don't lose your investment on the paint. Some of the benefits of using power washing start with removing undesirable growth, especially in areas which would otherwise be hard to reach. Pressure washing is also very safe for metal piling and concrete structures, ensuring no harm will come to the surfaces that you're trying to clean.
While you might not come across a professional firm like this every day, you would certainly want access to their services if you are someone who is responsible for highways which span rivers or streams, wharfs or docks, or any kind of underwater caisson which hasn't been cleaned for a while. There are two main objectives that any respectable cleaning firm will always have in mind on clean up jobs like this, removing all unwanted algae and buildup, and making sure that all involved personnel maintain a high level of safety so that no injuries ever occur.
The safety of the surfaces being cleaned is another aspect of that safety mindset that should be part of any cleansing specialist's approach. This is exactly the mindset which is encouraged by Hydro Tech of Vancouver, BC, and how all of our employees are trained and encouraged to perform while on the job. You are the beneficiary of that conscientious approach, with all your underwater caisson cleansing needs being met and exceeded.
Mobile Power Washing and Coating Services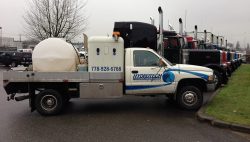 For industrial-strength cleansing for equipment, buildings and machinery, there's no one better than Hydro Tech Power Washing. As a completely mobile, self-sufficient solution to industrial power rinsing in Vancouver, BC, we serve the needs of commercial and industrial customers throughout the area. Whether you're freshening up the exterior façade of your building or maintaining your machinery, trust us to deliver rapid, thorough results. We wash to perfection, leaving no trace of debris behind and only a clean, fresh-looking surface for you to marvel at. Dirt, paint, sludge and other debris are no match for our clean up crews!
Our experience with commercial power washing in Vancouver, BC extends to numerous business types. From grease traps at restaurants to parking lots and structures for retail establishments, count on us for superb results, every time. In addition, we also have industrial coating services available. If you need your equipment's paint touched up or a protective clear coat restored, give us a call. Our mission is to help you maintain the integrity of your investments, and we do whatever we can to accomplish that goal through cleansing and coating services. We invite you to contact us today and see for yourself why so many businesses partner with us for ongoing cleaning services.
Subsea pile clean up activities are one of the tasks we are most frequently called upon to perform at Hydro Tech, and we have become experts over the years. This kind of cleansing action is necessary because biological growth can accumulate over a period of time, even if your subsea piles have been painted with an anti-fouling mixture. When this build-up accumulates to the point where it has become significant, that is when it is time to contact your Hydro Tech representative and have it removed.
If that biological material is not promptly removed, it can cause major damage to your subsea piles, and it can then damage the overall structure from there. Obviously, it can lead to all kinds of disasters, if the structure were to be weakened to the point where it is in danger of collapse. When your company is periodically inspecting your subsea piles so as to assess their condition, you should avoid jumping to the conclusion that replacements are necessary when you see a high level of buildup.
This is instead a good time to call in the experts, so that the exact level of damage can be assessed, and so less expensive alternatives can be considered. It is entirely possible that a good cleansing, and possibly even some repair work, would be adequate to restore the integrity of your subsea piles so that replacement is not necessary. A full replacement could be tremendously expensive, whereas a subsea pile clean up would be comparatively much more affordable for your firm.
Hydro Tech is well known throughout the Western United States and Canada for being a highly skilled and reputable power washing company, but we are also one of the best subsea pile cleansing companies in the region. When we tackle your subsea piles, we will use ultra-high water jetting to strip away any buildup in place, so that there is no fouling left on the surface. In a matter of one cleansing session, your subsea piles can be restored to their original pristine condition.
Our ultra-high pressure waterjet cleaning tool is operated remotely, and is fully automated so that clean up and surface preparation can be accomplished in the safest manner possible, without the need for divers or dive support vessels. This remotely operated device is ideal for usage on pipes, caissons, piles, conductors, risers, and all other kinds of subsea structures. Many offshore oil and gas companies require this kind of service, and the whole task can be made hassle-free, by using our ultra-high pressure waterjet cleaning equipment.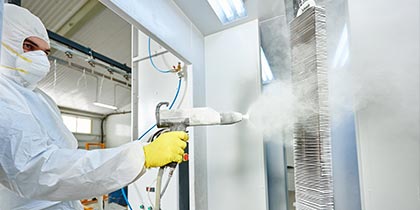 We are additionally a full-service industrial painting contractor headquartered in Vancouver, British Columbia, and we are more than happy to take on all kinds of coating projects. Our process involves taking all the appropriate steps to prepare the surface for painting, for instance by using high-pressure steam cleansing, sand-blasting, pneumatic tool clean up, or wet-abrasive blasting.
We will do our very best to work around your work schedule so that we don't impact any of your deadlines, or interfere with your procedures. When we visit your worksite, we will come prepared to deal with any situations which might arise, relative to your coatings and the overall application. We will bring swing stages, elevated work scaffolds, and aerial lifts, as well as all the necessary tools and equipment to accomplish the job on the spot.
Our service will help to preserve the integrity of your structural components so that they don't become degraded or eroded when protective coatings wear off, exposing the underlying materials. In addition to industrial painting, we also can provide sealing services and industry-specific coating processes, per your specifications.
All our technicians will perform a very prompt and thorough job, so that your oil and gas equipment becomes thoroughly cleaned and coated, and has its original durability and resilience restored. This will add years of life to your equipment, and will give you peace of mind in knowing that it is fully capable of performing at its best, with safe and smooth operation.
Under normal conditions, industrial equipment is subjected to extreme wear and tear, so it is not surprising that grease and other material builds up from daily usage. When those materials are allowed to accumulate unchecked and are not properly cleaned away, it can cause damage to the machinery, and might even require a total replacement if the damage is severe enough.
To prevent this from happening, your best bet is to contact the professionals at Hydro Tech so that an expert power cleansing can be administered, and all that buildup can be removed. This will help restore your equipment to its original efficiency, and will add years of life to its operating capabilities. If you have construction equipment operating in the field, or if you have a number of pieces of heavy machinery installed at your factory, it will be to your advantage to have it cleaned periodically so that it continues to perform optimally.
We will send a team to your site, and have your equipment thoroughly cleaned and prepared for a full workload much faster than you might think. Our 500-gallon tank trucks provide sufficient water for us to deliver pressure washing, which will remove even the most stubborn buildup from your machinery. We can also have this water heated up to 300°F, so that virtually nothing can withstand the powerful cleaning force delivered by our equipment.
We have provided this kind of service to a great many companies in the oil and gas business, as well as those involved with the maintenance of trans-mountain pipeline, and drilling equipment right on site. You can imagine how grimy and dirty drilling equipment can get after just a week or two of usage, but even that kind of buildup is no match for our ultra-high pressure waterjet clean up process.
One of the things which attracts customers to your retail outlet is having a clean and cheerful-looking exterior, because when your building looks welcoming and clean people are much more likely to drop in and patronize your business. This is true whether you have a deli operation, a mom-and-pop convenience store, a fine dining restaurant, or even a movie theater complex.
People are much more inclined to enter your establishment and purchase your products or services when they can see that your building exterior is clean and bright, rather than dull and dreary. This is where our commercial rinsing service comes in, and it's a service we have provided to a great many clients in Canada for years.
Hydro Tech delivers a commercial washing service that is unequaled throughout the entire region, and it has been a premier service for more than a decade. Our high-pressure waterjet cleaning service restores a clean and welcome exterior to any building, and our attention to detail is one of the factors which led to us being favored by many of our clients.
We are also a cleaning service of choice for many companies because we do our best to support the environment, by using biodegradable degreasers, environmentally-friendly cleaners, and by making as little impact as possible on the environment itself. We have provided professional services to a great many shopping malls, office buildings, hotels, and retail outlets. We would like to be your go-to cleansing service as well, so please contact us today to inquire about our commercial cleaner service, our coating service, or our subsea piles cleansing service.
Experience Pristine Cleanliness

From buildings to equipment, no matter the level of dirt, debris or buildups, our cleansing services are truly restorative. Contact us today to see our superior results for yourself.

Proudly offering industrial and commercial power washing to residents of the following areas:

Vancouver, BC
Burnaby, BC
Coquitlam, BC
Langley, BC
New Westminster, BC
Delta, BC

Pitt Meadows, BC
Port Moody, BC
Maple Ridge, BC
North Vancouver, BC
West Vancouver, BC
Our Clients
Our Clients also include : Southwest Contracting LTD, Golder Associates LTD, Pacific Ground Engineering, Pedre Contractors LTD, Chinook Helicopters, WM Disposal, PCL Construction, Con West Contracting, PR Construction, Graham Construction, Greenbelt Excavating, Chartered Bus Lines, Silex Contracting, Polygon, BFI, Seal Tec, Flatiron, Rapid Impact Compactors, Delta Aggregates LTD, Pan Pacific Hotels, Ross Rex Industrial Painters, Royal Bank of Canada, TAK Logistics, Progressive Contracting, Smithrite Corix Water Systems, Weston Bakery, The Original Cakerie Ltd, Mod Space, Dynacrete, Finning Ltd, Hazco, Fraser River Pile and Dredge, Great West Equipment, Inland Kenworth, Sonic Drill, Traxxon Rock Drills LTD, Mission Hill Winery, Vancouver 2010 Olyimpics, BC Road Builders Association, Vancouver Convention Centre, West Shore Terminals, Sea Span