Mobile Power Washing in North Vancouver, BC
Hydro Tech Power Washing offers industry-best industrial and commercial power washing services to the Vancouver area. We are a true mobile power washing company, with trucks that are fully-equipped with water tanks, allowing us to work in even the most remote locations. Give us a call today to see how we can help you restore your business or equipment to a like-new condition.
Professional
Insured
Mobile
Mobile Power Washing and Coating Services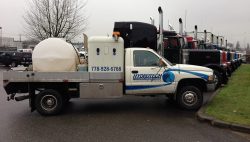 For industrial-strength cleaning for equipment, buildings and machinery, there's no one better than Hydro Tech Power Washing. As a completely mobile, self-sufficient solution to industrial power washing in Vancouver, BC, we serve the needs of commercial and industrial customers throughout the area. Whether you're freshening up the exterior façade of your building or maintaining your industrial machinery, trust us to deliver rapid, thorough results. We power wash to perfection, leaving no trace of debris behind and only a clean, fresh-looking surface for you to marvel at. Dirt, paint, sludge and other debris are no match for our cleaning crews!
Our experience with commercial power washing in Vancouver, BC extends to numerous business types. From grease traps at restaurants to parking lots and structures for retail establishments, count on us for superb results, every time. In addition, we also have industrial coating services available. If you need your equipment's paint touched up or a protective clear coat restored, give us a call. Our mission is to help you maintain the integrity of your investments, and we do whatever we can to accomplish that goal through cleaning and coating services. We invite you to contact us today and see for yourself why so many industrial and commercial businesses partner with us for ongoing cleaning services.
Experience Pristine Cleanliness

From buildings to equipment, no matter the level of dirt, debris or buildups, our power washing services are truly restorative. Contact us today to see our superior results for yourself.

Proudly offering industrial and commercial power washing to residents of the following areas:

Vancouver, BC
Burnaby, BC
Coquitlam, BC
Langley, BC
New Westminster, BC
Delta, BC

Pitt Meadows, BC
Port Moody, BC
Maple Ridge, BC
North Vancouver, BC
West Vancouver, BC
Our Clients
Our Clients also include : Southwest Contracting LTD, Golder Associates LTD, Pacific Ground Engineering, Pedre Contractors LTD, Chinook Helicopters, WM Disposal, PCL Construction, Con West Contracting, PR Construction, Graham Construction, Greenbelt Excavating, Chartered Bus Lines, Silex Contracting, Polygon, BFI, Seal Tec, Flatiron, Rapid Impact Compactors, Delta Aggregates LTD, Pan Pacific Hotels, Ross Rex Industrial Painters, Royal Bank of Canada, TAK Logistics, Progressive Contracting, Smithrite Corix Water Systems, Weston Bakery, The Original Cakerie Ltd, Mod Space, Dynacrete, Finning Ltd, Hazco, Fraser River Pile and Dredge, Great West Equipment, Inland Kenworth, Sonic Drill, Traxxon Rock Drills LTD, Mission Hill Winery, Vancouver 2010 Olyimpics, BC Road Builders Association, Vancouver Convention Centre, West Shore Terminals, Sea Span