Hydro Tech has been the preferred provider of marine ports & terminals power washing Vancouver BC, since 2007. We also specialize in pressure-washing marine terminals in Vancouver, BC. Our name is synonymous with superior quality and expertise. We're proud of our service and the team we send out. At Hydro Tech, we offer industrial and commercial pressure washing services.
Our marine ports and terminal power washing services include pressure washing containers, cranes, equipment, and more. Our team members are highly trained and we deliver work with a sense of urgency while maintaining high levels of professionalism and attention to detail. We are meticulous in our work. That's why our reputation is a testament to what we do. We provide cleaning services for industrial equipment that is being exported or imported. At Hydro Tech, we offer clients a facility to drop off equipment and large export items to be power washed before being shipped. What makes us unique is that we can offer our services even if there isn't a traditional water hookup nearby.
Power Wash Versus Pressure Wash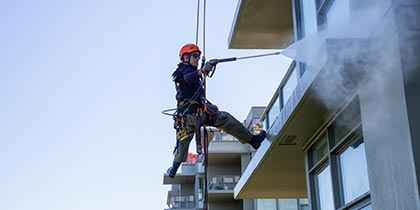 The difference between our pressure and power washing services is heat. Our pressure washer pushes out cold water using high pressure to wash away grime and dirt from your equipment, boats, or vehicles. Our power washing services do the same thing but use hot water to create highly pressurized steam.
Do you need power or industrial pressure washing services for your earth-moving equipment? Speak to the professionals at Hydro Tech. We will clean and remove build-ups from your earth-moving equipment so that your equipment can function optimally. We're mobile. We can come to you, or you can drop your equipment and machinery at our facility to be cleaned. Hydro Tech features trucks with 500-gallon water tanks. Our water tanks heat up independently. That's what we call the Hydro Tech advantage. Our trucks allow us to work remotely or on any heavy-duty jobs. That's why we're considered the best in the business.
Do you need your boat hulls to be cleaned at the marine ports? We have the skills, expertise, team, and equipment to do the job quickly and efficiently.
When you need pressure or power washing, call on a team of professionals you can trust. We offer a fleet of trucks with 500-gallon water tanks and washers that operate 4000 PSI.
Why Hire Us
We can think of a few good reasons why you should contact us!
Our team members are first-aid trained.
We use state-of-the-art equipment and vehicles to get the job done.
We continuously strive to meet and exceed customer expectations.
Hydro Tech only uses eco-friendly cleaning solutions.
We put safety at the forefront of everything we do, including training our staff to the highest standards.
Our employees will treat your property with care and respect.