Get a Custom Quote
Marine terminals in Vancouver, BC can be incredibly busy. As a part of the overall port, the terminal handles the cargo and goods that must be loaded and unloaded from the ships. They also provide an area for people to board and disembark from ships. Properly marked and painted safety guidelines help keep things flowing smoothly.
The possibility of considerable economic losses is ever-present if proper maintenance and safety upkeep isn't performed regularly. Terminals need to keep their paint and coatings intact to ensure proper functionality. The harshness of saltwater, wind, and weather take their toll on terminals. Without appropriate precautions like painting and coatings, the terminal equipment can fail, making replacement the only option. A standard paint isn't going to provide the level of protection needed to defend against these corrosives. There are coatings that will provide protection. The best way to go about determining what to use is to contact a professional team like Hydro Tech. We can provide you with the best coatings and paint for your needs.
Marine paints are different than most other applications. Cargo vessels have the deck area, the below waterline area, and the above waterline area. Each section will require a particular treatment, from anti-fouling paints and coats to stop plant and animal growth on the hull to specialized coatings needed internally.
Marine terminal maintenance can be a challenging undertaking. Finding the right contractors, the proper equipment, and experienced technicians to handle the job is not only time-consuming but also a headache. At Hydro Tech, we provide high-pressure cleaning, painting, and coating services. Our team of experts will work quickly and efficiently to limit any downtime of equipment.
Before the painting and coating process can start, the surfaces need to be prepped. The primary reason paints fail is due to poor preparation of the surface. When treating the hull, the first time or painting any new steel plates, the mill scale must be removed. Mill scale is a leftover film from the forging process. The mill scale can flake off after painting, leaving an exposed spot on the hull. At Hydro Tech, we excel at high-pressure blast cleaning and painting, so we can help remove any mill scale and any other debris before painting.
We offer high-pressure blasting to prepare the area for the painting process. Our team will blast the surfaces, followed by any wire brushing that may be needed. We then apply a coat of primer to abate any rust.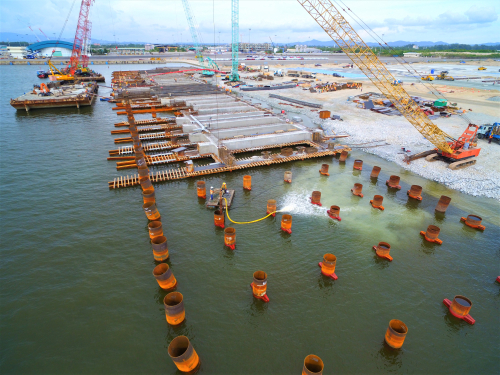 Marine Terminal Coatings
Marine terminal coatings are a type of paint used to protect steel or concrete from inclement weather, collisions, chemical spills, and saltwater. There are several types of coats, and all have similar application techniques.
Keeping steel and concrete from corroding under the intense pressures experienced around the ocean and weather will help the terminal stay operable without significant downtime in the future for excessive repairs.
Coatings can both protect from the elements and offer a more pleasant aesthetic to the worksite. Marine terminals are generally very industrialized, so being able to provide a bit more curb appeal helps. The coatings and paints we use can help with laying out safety lines as well. When you are ready to get started with the process of painting and coating your equipment, reach out to us.
Our team of highly experienced technicians has provided coating, painting, and sealer projects throughout the Vancouver, BC area. We work fast to limit downtime and to provide you with clean, vibrant, restored equipment. The end result will ensure the continued functionality of the terminal going forward.
Why These Services are Important
Industrial painting and coating marine terminals offer corrosion prevention. Maintenance of the equipment on the terminal requires constant upkeep, and while this is taking place, consider having Hydro Tech clean, paint and coat your equipment to provide as much protection as possible from the elements.
Sea air and water take their toll on equipment and can prove to be costly. Regularly cleaning and painting the terminal will help keep the corrosion at bay.
With our services, you will see immediate benefits to the safety and functionality of the terminal, with hazards clearly marked and equipment operating smoothly now that it has been cleaned. Contact us today.