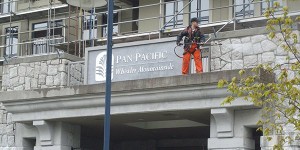 Maintaining a clean, well-presented exterior is a cornerstone of having a welcoming, successful business. When your building looks good, people are more apt to visiting and spending time at your establishment. Whether you're a retail space, a restaurant or something else entirely, commercial pressure washing in Vancouver, BC is critical in maintaining your façade. Hydro Tech Power Washing is here to help.
Our experience as a commercial power washing service in Vancouver, BC is unmatched, spanning more than a decade. We've power washed buildings of all types and sizes, working to remove debris and restore the cleanliness to an unparalleled degree. Our attention to detail, rapid power washing and thoroughness are why commercial customers continue to call us as part of their building's routine maintenance needs.
In addition to producing industry-best cleanliness, we also win the business of our customers by being environmentally conscious! We use environmentally-friendly cleaners and biodegradable degreasers, minimizing our impact on the environment around us.
Establishments We Serve
As a commercial power washing company in Vancouver, BC, we welcome projects from commercial building owners across the spectrum. Some of our recurring commercial clients include shopping malls, hotels, high-rise office buildings and parking lots, among others. Wherever there's high traffic, the presence of environmental detractors or the need for beautiful presentation, you'll find us!
What We Clean
We have a depth of experience when it comes to power washing and pressure cleaning. More than just removing dust and debris, we can clean even engrained stains like paint and graffiti, as well as different surfaces that require different levels of attention. Some of our capabilities include:
Facades
Sidewalks
Storefronts
Signage
Underground parking
Railings
Stairs
Loading areas
Restaurant grease traps
Graffiti removal
Garbage and sterilization
Experience Cleaning Perfection
Don't let your commercial exterior fall by the wayside and become dirty or lackluster. Instead, contact the professionals at Hydro Tech Power Washing for restorative power washing. We'll bring everything back to a pristine level of cleanliness! Contact us today by calling 778-928-6768.