Get a Custom Quote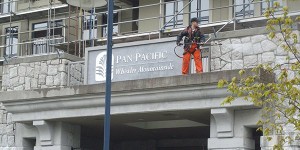 Keeping your commercial property clean will not only be good for you and your staff but will also help you to project a positive image of your business. Clean premises will create the impression that your products and services are of high quality, a factor that will encourage more customers to make a purchase. While there are many techniques of cleaning your property, power washing ensures the job is done both quickly and effectively. However, cleaning a property on a day-to-day basis can become tedious, especially if you are doing the job yourself. As such, to maintain top-notch cleanliness standards at your company, you should consider hiring a commercial pressure washer.

Maintaining a clean, well-presented exterior is a cornerstone of having a welcoming, successful business. When your building looks good, people are more apt to visiting and spending time at your establishment. Whether you're a retail space, a restaurant or something else entirely, commercial pressure washing services in Vancouver, BC are critical in maintaining your façade. Hydro Tech is here to help.

Our experience as a pressure spraying service in Vancouver, BC is unmatched, spanning more than a decade. We've washed buildings of all types and sizes, working to remove debris and restore the cleanliness to an unparalleled degree. Our attention to detail, rapid cleaning and thoroughness are why customers continue to call us as part of their building's routine maintenance needs.

In addition to producing industry-best cleanliness, we also win the business of our customers by being environmentally conscious! Our commercial power washers use environmentally-friendly cleaners and biodegradable degreasers, minimizing our impact on the environment around us.
Establishments We Serve
As a commercial power cleaning company in Vancouver, BC, we welcome projects from building owners across the spectrum. Some of our recurring clients include shopping malls, hotels, high-rise office buildings and parking lots, among others. Wherever there's high traffic, the presence of environmental detractors or the need for a beautiful presentation, you'll find us!
What We Clean
We have a depth of experience when it comes to power and pressurized cleaning. More than just removing dust and debris, we can clean even engrained stains like paint and graffiti, as well as different surfaces that require different levels of attention. Some of our capabilities include:
Facades
Sidewalks
Storefronts
Signage
Underground parking
Railings
Stairs
Loading areas
Restaurant grease traps
Graffiti removal
Garbage and sterilization
Pressure Washing Services
Pressure washing uses a highly pressurized water spray to remove dirt, dust, mold, mud, and other contaminants from various services. Here are a few reasons why you should consider professional pressurized washing services:
Boost Curb Appeal
The grime and dirt that accumulate on the entryway and surfaces of your building will compromise its appearance, leaving the building's exterior looking dull. Pressure rinsing is an effective technique that removes dirt to ensure a brighter exterior. A brighter exterior will also help you to boost your company premises' curb appeal. By adding curb appeal, you will influence how customers perceive your business and products as well as make your business more inviting.
Save Time and Costs
A good number of cleaning methods will involve mixing of detergents, climbing of ladders, endless scrubbing, and a lot of strenuous activity. Power spraying makes it easy to get rid of grime on surfaces with little effort and great efficiency, which helps you to save a significant amount of time. Power spraying also prevents the accumulation of dirt that could lead to expensive repairs. In this way, this technique saves you money.
Cleaner and Healthier Environment
Since spraying works by splashing water at a high force as opposed to using toxic chemicals, it is friendly to the environment. The mold, mildew, acidic substances and dirt materials that accumulate in your property can create unhygienic conditions for you, your staff, and your customers. With pressurized rinsing, you will be able to eradicate the contaminants, effectively improving air quality and creating a healthier environment.
Fewer Repairs
Cleaning your property often can help to increase its lifespan. Getting rid of dirt on various surfaces will reduce the chances of premature aging, rot, and decay. In essence, spraying will not only reduce the need for repairs but also prolong the life of your property. As an important part of property maintenance, pressurized spraying will ensure that your driveway and siding remain functional for many years.
Why You Should Not Do It Yourself
Power and pressurized cleaning are serious jobs that require the relevant skills and experience to perform. If you are new to this technique, this can be a frustrating, costly, and time-consuming exercise. Similarly, the machines used can cause damage to your property, hurt someone, or even lead to fatalities. To ensure safety and protect your property from damage, it is advisable to hire professionals to do the job.
Commercial Pressure Washing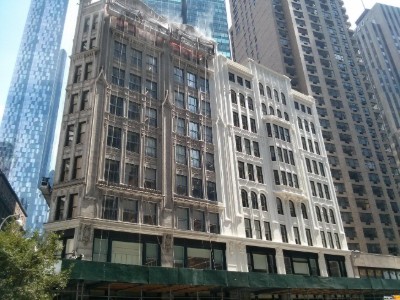 To enjoy the benefits associated with pressurized cleaning, you should hire a professional cleaning company. With the many options available, it can be difficult to choose the right one for your needs. Hydro Tech offers quality pressure cleaning services that will benefit your business.
Here is why you should work with us:
A Clear Price Quote
We not only offer quality pressurized cleaning services but also emphasize transparency when it comes to pricing. Once you explain to us exactly what you need, we will provide you with an itemized price quote. In essence, our itemized price quote gives you a clear picture of the purpose behind every charge, allowing you to plan accordingly. We value all our customers, and this is why we do not have vague terms or hidden charges.
Flexible Services
With our experience in the industry, we know that every property is a little different. We also understand that different surfaces and materials require different techniques. We offer flexible services to ensure effective service that preserves the aesthetic appeal and value of your property. Our broad range of power washing services is designed to ensure that we fulfill the specific needs of your building.
Proven Track Record
You will not entrust just anyone with the task of cleaning your property. Most property owners will want to work with a company with a reputation for doing successful pressurized cleaning jobs. We have a proven track record, with numerous photos to showcase our past work. We are proud to have customer testimonials and online reviews from our previous clients that serve as proof of the quality of work that we deliver.
Experienced Staff
Pressurized water can cause a great deal of accidental damage to property within a very short period of time. When hiring a company, you must ensure that your property will be in competent hands. One of the factors that set us apart from the competition is that we employ qualified and experienced staff. We have also invested in state-of-the-art power wash equipment to ensure we provide our customers with quality services at all times. Our employees are trained on how to avoid damage to the delicate features of your property.
Safe and Eco-Friendly Detergents
In an attempt to create a clean and healthy environment, most property owners will request services regularly. As a company, we are committed to using safe and eco-friendly detergents and power washing equipment. We strive to make sure that the cleaning solutions we use will not pose health risks to your workers and customers or cause damage to your property. We are also conscious of the impact that harmful chemicals have on the environment, a factor that has informed our decision to use environmentally friendly cleaning solutions and techniques.
Insurance
We value all our customers and will always work to ensure you enjoy peace of mind as we pressure wash your property. We know that the surfaces on which mold and mildew have grown can be slippery and cause accidental falls. As such, we have the right insurance to protect against claims in the event such incidences occur.
Experience Cleaning Perfection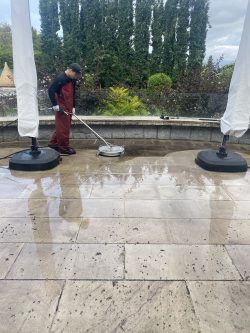 Now that you know the qualities to look for in a pressure cleaning company, you should always do your research before requesting mobile power washing services. Good research will help you to keep your workers and customers safe as well as protect your investments. At Hydro Tech, we listen to your needs and go the extra mile to ensure customer satisfaction. Contact us today to request our commercial pressure cleaning services.
Don't let your commercial exterior fall by the wayside and become dirty or lackluster. Instead, contact the professionals at Hydro Tech for restorative power rinsing. We'll bring everything back to a pristine level of cleanliness! Contact us today by calling 778-928-6768 for commercial and industrial pressure cleaning today.