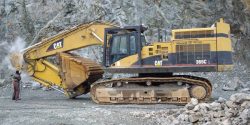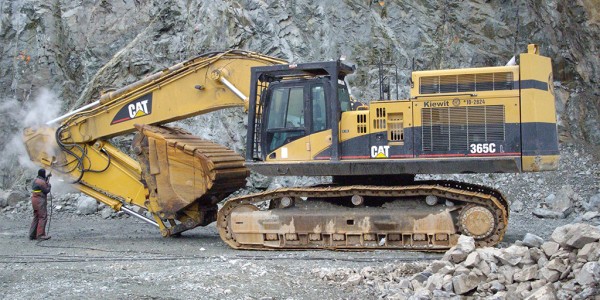 Industrial equipment sees intense wear and tear—it's no surprise that over time, grease from daily use builds up and, if not properly cleaned, can cause components to need to be replaced. Before it gets to that point, let the professionals at Hydro Tech provide your equipment with power cleaning in Vancouver, BC. We remove build-ups so that you can truly get the most use out of your earthmoving machinery.
Maintaining a safe, productive, and efficient workplace for employees should be a priority for every industrial property owner. A safe and efficient workspace will promote the wellness of your employees and minimize the risk of accidents at the workplace. One of the basic things you can do to achieve this is to keep equipment and the work area clean. Since the facility is likely to get dirty quite quickly, you may want to consider engaging reliable industrial pressure cleaning services. Considering the numerous benefits of industrial power washing for your facility, you will need to work with a professional company that delivers superior quality.
Whether you have heavy machinery at your factory or construction equipment in the field, Hydro Tech will remove grease and dirt buildup so you can get the most out of your components and manufacturing building.
As a full-service, self-sufficient industrial pressure washing company, we welcome jobs from all corners of the manufacturing world.

Whether you've got heavy machinery at your factory or construction equipment in the field, give us a call to have it cleaned up quickly. Our trucks are equipped with 500-gallon water tanks and able to heat independently—giving us the edge when it comes to remote job sites or heavy-duty jobs!
Industrial Power Washing Services
While some companies claim to offer pressurized spraying in Vancouver, BC, few can back it up to the level Hydro Tech does. Not only do we have 500-gallon tank trucks, but our truck washers can also operate at up to 4000 PSI! This is strong enough to blast away even the biggest, most consolidated buildups. And, with water heating capabilities up to 300 degrees, nothing stands a chance against our cleaning crews.
Machinery and Equipment We Clean
Fleet vehicles
Tractors and trailers
Dump trucks
Garbage trucks
Cranes
Rock trucks
Logging trucks
Excavators
Mills
Wheel loaders
Dozers
Air tracks and drilling equipment
Oilfield machinery
Rock crushers and screeners
Hydro dams
Sewage treatment plants
Gas and oil refinery
Pressure Washing Services
With the many companies that offer industrial pressurized spraying in Vancouver, we continuously strive to set ourselves apart from the competition. We have qualified and experienced staff with whom you can entrust the task of maintaining your assets. Our pressurized rinsing services are designed to ensure limited business interruption and customer satisfaction. Here's why you should hire our cleaning services:
Thorough Cleaning
The main aim of requesting industrial and commercial pressure washing services is to remove dust, dirt, grease, and other contaminants from your machinery. When you choose to work with us, you can be sure that your assets will be sparkling clean after the exercise. Our employees have the necessary training to ensure effective cleaning of all parts of your machinery, including the hard to reach areas. We also use modern tools and techniques to help keep your machinery looking presentable.
Eco-Friendly Cleaning Solutions
As a company, we are committed to using environmentally-friendly spraying solutions and techniques. With pressurized rinsing, we do not have to use harsh chemicals when cleaning your facility since the pressure of the water removes contaminants effectively. Eco-friendly solutions help to minimize the risk of health hazards that you and your employees are exposed to. It also goes a long way in ensuring we reduce pollution and protect your drains when discharging wastewater.
Safety

Industrial cleaning can be a dangerous endeavor. The great force with which water comes out of the nozzle has the potential to hurt people, causing serious injuries and even fatalities. The velocity of the water can cause loose concrete chippings and small stones to ricochet, resulting in potentially fatal injuries. We are an experienced company that knows how to handle pressurized spraying machines in a way that ensures safety. Our staff will always wear protective gear when working and use the right techniques to make sure everyone around them is safe.
Protecting Your Property
Using the wrong cleaning technique or solutions on certain surfaces can result in damage to property. As such, every property owner will want to work with professionals when it comes to spraying. Before pressure washing your machines and facility, we will assess the area to determine the most appropriate washer and detergents for the job. Our proper pre-assessment gives you the peace of mind that comes with knowing your property is in competent hands.
Help You Create a Productive Workplace
A clean and healthy workplace is a productive workplace. Since every business looks for ways to enhance productivity, we have made it our mission to help you achieve your goals through professional pressurized cleaning. Getting rid of dust, mold, grease, and other allergens improve air quality so your employees can work in a comfortable environment. Pressure cleaning is a great way to create a productive and efficient workplace.
Industrial Pressure Washing

We know that the needs of our clients vary widely. As such, our mobile pressure washing services cover a wide range of surfaces, and components. Here is part of what we clean to ensure that everything works properly at all times:
Warehouse Floors
When grease, mold, or mildew accumulates on warehouse floors, the surface can become slippery. Slippery surfaces could lead to accidents that cause severe injuries to your workers and visitors. Our cleaning services cover these floors to not only improve their appearance but also minimize the safety hazards. The growth of mold and mildew could also result in premature aging and rotting, necessitating frequent repairs.
Walls and Ceilings
Depending on the nature of your business activities, contaminants on the walls and ceiling of your facility could affect the quality of your products. Dust in the workplace will also present health risks to those who occupy the space on a day to day basis. Pressurized spraying removes dirt and dust from these surfaces to help ensure efficient operations in your facility.
Garage Doors
Dirty and dusty garage doors will expose you to contaminants and compromise the curb appeal of your premises. Unclean premises will also project a negative image of your business, with the potential to keep customers from doing business with you. Once we assess the garage doors, we will determine the best washer and techniques to clean them.
Machinery
Buying and installing machinery makes for a huge investment. As such, it is important to ensure that the exterior of your machines is in good condition at all times. We use pressure to remove grime, grease, dust, and loose paint from both the exteriors and interiors of your machines. With our expertise and experience, you can rest easy knowing that your machines will not suffer damage during the exercise.
Heavy-Duty Equipment
Apart from the components in your factory, you will also need to maintain your heavy-duty machinery in the field. Whether it is tractors, trailers, cranes, garbage trucks, excavators, drilling components, dozers, or oilfield equipment, we have the right industrial machinery cleaning services to keep them clean and in good shape.
Storage Tanks
Regardless of the products you store in your tanks, there is a chance that small particles will settle at the bottom of the facilities. The interior may also gather dirt and duct over time. If you are to maintain the quality of the contents, the storage tanks will have to be cleaned regularly. Our services include the cleaning of such storage facilities.
Dumpsters and Surrounding Areas
Dumpsters play a crucial role in helping you keep your surroundings clean. While your dumpster pad may not be your main attraction, it should never divert from the quality of your business. Our dumpster spraying services help to eliminate eyesores, keep the bad smell at bay, and promote health and sanitation.
Clean Your Equipment Today
The pressure washing company you choose can be the difference between quality services and devastation. As such, you should do your due diligence before hiring a company for industrial equipment cleaning services. Hydro Tech offers reliable services to restore the integrity of your facility. Contact us today to request our services.
Maintaining components is important for cleaning companies because it ensures everything works properly at all times. To avoid setbacks on your jobsite or long-term problems with your machinery, consult with the professionals at Hydro Tech about our industrial power pressure services. We'll restore the integrity of your equipment, so you can rely on it during your day-to-day operations. Contact us today by calling 778-928-6768.