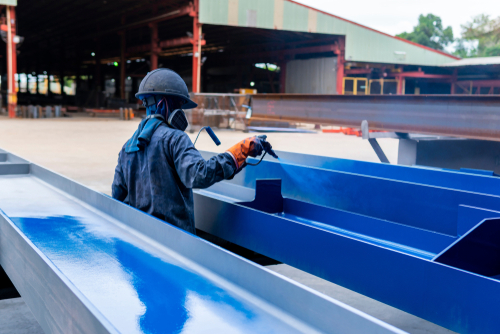 Quality Industrial Coatings
Welcome to Hydro Tech, your trusted partner for all your industrial painting and coating needs in Burnaby, BC. With many years of experience and a team of skilled professionals, we're committed to providing exceptional painting and pressure-washing services that exceed our clients' expectations. From small-scale projects to large industrial complexes, we offer a wide range of industrial painting and coating solutions to meet your specific needs.
Superior Industrial Paint Coatings
At Hydro Tech, we understand the importance of choosing the right industrial paint coatings for your project. As a leading provider of industrial coatings in Burnaby, BC, we strive to deliver excellence in every application. Our team works closely with you to understand your requirements and recommend the most suitable coatings that offer durability, corrosion resistance, and aesthetic appeal. Whether you need protective coatings for metal structures, coatings for pipelines, tanks, or machinery, or even floor coatings for industrial facilities, we have the expertise to handle it all.
Comprehensive Industrial Coatings Painting Service
Our industrial coatings painting service is designed to cover every aspect of your project, from surface preparation to the final coat. We believe that proper preparation is the key to achieving long-lasting and visually appealing results. Our team utilizes advanced techniques and equipment to thoroughly clean, sand, and prime surfaces before applying the selected coatings. This ensures maximum adhesion and a flawless finish that stands the test of time.
Expertise in Various Coating Systems
We take pride in our extensive knowledge and experience in working with a wide variety of coating systems. From epoxy coatings and polyurethane coatings to fluoropolymer and thermal spray coatings, we offer comprehensive solutions and mobile industrial coatings tailored to your specific needs. Our team stays updated with the latest industry trends and technologies, ensuring that we deliver the most advanced and effective coating systems available.

Efficiency and Timely Completion
At Hydro Tech, we understand the significance of minimal downtime for your business operations. Our dedicated team works efficiently to complete our industrial wall painting, warehouse painting, and other projects within the agreed-upon timelines without compromising on quality. We take pride in our ability to deliver exceptional results promptly, allowing you to resume your operations as soon as possible.
Commitment to Customer Satisfaction
Customer satisfaction is at the forefront of everything we do. We believe in building long-term relationships with our clients based on trust, reliability, and exceptional service. From the initial consultation to project completion, we work closely with you to understand your unique requirements and provide customized solutions that meet and exceed your expectations.
Contact Hydro Tech for Your Industrial Paint Coating Needs
When it comes to industrial paint coatings in Burnaby, BC, Hydro Tech is the name you can trust. With our expertise, advanced techniques, and commitment to customer satisfaction, we are dedicated to delivering superior results that stand the test of time.
So contact us today to discuss your industrial painting and coating requirements, and let us provide you with the exceptional service you deserve.