The lifespan of industrial warehouse paint depends heavily on the environmental, operational, and quality of paint used. Industrial warehouses can have extreme temperature variances throughout the year, and in some cases, throughout the day. High humidity, excessive water spray, pollutants, chemicals, and general wear and tear will eventually cause the surface coatings and paint to break down.
Checking the overall condition of the warehouse paint is an essential part of building maintenance in Vancouver, BC. Here are some common ways to determine the state of the coating and paint:
Faded, discolored, and cracking paint are all signs that the coating needs replaced.
Missing or deteriorated floor striping and markings are other indicators.
Floor coatings offer several functions-most importantly:

Protects the floor from spills and deterioration.
Create a safer working environment.
Offers better planning of the warehouse layout.
Industrial paint is supposed to last significantly longer than conventional paint while also providing protections that conventional cannot offer. Industrial coatings and paints are essential to keeping warehouse spaces operating smoothly.
Coating and repainting equipment should be handled in the proper order. Machinery is far too expensive to let untrained workers attempt to prepare them for new painting and coatings. The process can become intricate, including the use of sandblasting and pneumatic hammers, if needed. The experienced professionals at Hydro Tech are able to bring your machines back to new-like brilliance while ensuring they don't wear out prematurely.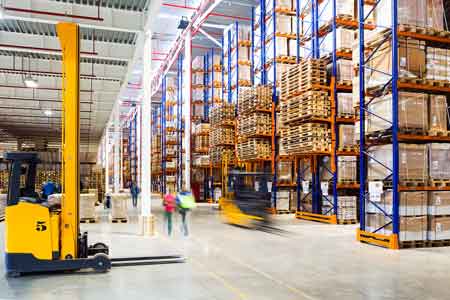 Industrial Warehouse Coatings
Warehouse coatings provide extra protection from the elements. Industrial warehouses need additional protection as they tend to experience significant strain and severe treatment. Coatings can seal off the structure and protect it from the elements. Corrosion and rust take their toll on equipment and facilities. With proper coating protections, this deterioration can be avoided.
The application process consists of priming the area, applying the paint if needed, then sealing the entire area with industrial coating. The most common uses for coating are protecting metal surfaces like stainless steel and concrete surfaces like floors and structures. Industrial coatings can also create a fireproof barrier, making surfaces fire-resistant. Fire-resistant surfaces help immensely in manufacturing environments.
Industrial coats come in three main varieties of metallic, inorganic, and organic. Metallic types break down further into electroplating, anodizing, hot-dip galvanizing, and diffusion coating.
Organic coatings consist of most types of paint, varnishes, and more. Inorganic coatings are created by using porcelain and other like materials.
The types of paint and coatings needed depend entirely on what is being covered. The professionals at Hydro Tech are ready to consult with you and assist in the coating process.
Why These Services are Important
Coatings and paints are great for preserving and renewing buildings and machinery. When coatings are used on the floor, safety lines and textures can be added to help improve worker safety. By investing in the proper coating and painting materials, businesses can avoid costly lost hours, injuries and brighten up the workplace.
Depending on the needs of the facility, coatings may consist of intumescent paint, coatings to fight against mold and seal out moisture, or coatings that can handle constant abuse from hard-working machinery. Our team at Hydro Tech can help determine the proper coatings and paints to use, based on the work being done at the facility. Reach out to us today to get started.
Warehouse and factory painting are essential because paint creates a barrier on walls and ceilings to protect them from elemental damages. Exposed steel and machinery are also excellent candidates for paint. However, when hiring a team to paint and seal a warehouse or factory, make sure to find a reputable and capable company that will provide you with the best products and services around. Hydro Tech provides the highest quality services offered by the utmost professional team. Whether having machines repainted or sealing the floors of your structure, the quality and level of detail provided by the Hydro Techs team is unsurpassed. Contact us today if you're in the Vancouver, BC area.