Get a Custom Quote
Not every painter is a good painter; it's always essential that you look for an expert for the job. Painting is a professional trade, and you only get an attractive and welcoming appearance when the work is done correctly.  
For our trade, the painting language is: Choose the right color, buy only what you need, use the right painting tools. By doing this, we achieve perfect painting and coating results. 
The three essential skills that an expert painter should have are: 
Knowing the exact paint product to use. 

The appropriate knowledge on how to prepare for painting.

The right knowledge on how to apply paint on the surface.  
Where to Find the Best Painters in Vancouver, BC
At Hydro Tech in Vancouver, BC, we offer the best commercial and industrial power washing services. We are a genuine mobile power working enterprise. We have water tanks with equipped tracks that allow us to work even in remote areas. 
At Hydro Tech, our services include: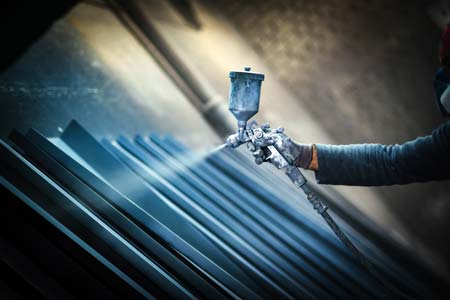 Commercial Power Washing
Customers are attracted by cheerful, smart-looking exteriors. People prefer to purchase products in buildings which have bright and clean exteriors, rather than dreary and dull ones. Hydro Tech's high-pressure commercial pressure washing leaves your exterior shining. 
Industrial Power Washing
Whenever your industrial equipment is subjected to tear and wear, grease may accumulate; and if not properly cleaned, it may damage the machine operation. To avoid this damage, it would help if you contact our professionals at Hydro Tech, so that an expert power cleansing may be administered to remove all the buildup dirt from your machine.  
Industrial Coatings
We offer all types of industrial coating projects. Our first step is to prepare the surface by using sandblasting, high-pressure steam washing, wet-abrasive blasting, and pneumatic cleaning tool. We are very cautious not to interfere with your procedures and deadlines. Our technicians are very keen on cleaning your oil and gas equipment to ensure its resilience and original durability is restored. 
Subsea Pile Cleaning
Subsea cleaning activities are some duties we perform frequently. This cleaning action eradicates all bacteria that could have accumulated on the subsea pile. To avoid full subsea replacement, which may be extremely expensive, work with our trusted technicians to ensure your subsea piles always remain clean.  
Refinery Coating–Some Refinery Sampling Challenges
Slow Response
Sulfur can quickly adsorb in stainless surfaces. The adsorption may cause delays in the job and may lead to catalyst damage, raising the operating cost. 
Oxidation
Oxidization of the surface may destroy instrument passage leading to frequent failures and maintenance.
Instrumentation Corrosion
Sample transfer system and instrument probes are exposed to harsh environmental elements and may experience similar corrosion. It's expensive to replace corrosion in the monitoring system.
Moisture Contamination
Moisture adsorbs sulfur compounds, including H2S, causing an increased risk of corrosion and wrong negative readings. 
Refinery Coating Solutions
When you send us your alloy part or stainless steel, we deliver an inert surface that maintains durability and is tolerant.
Our Coated Flow Paths Include:
Reactors 

Probes 

Tubing

Regulators 

IR sampling cells 

Injectors 

Sample cylinders 

Valves and fittings 

GC components 
We offer practical solutions to the general process of painting and coating job, and refinery sampling. Our products are useful throughout the refinery in process improvement and material performance. You can get our products in diverse forms such as analyzer systems, process sampler, stack, flare analyzer, fence line monitor, and product testing. 
Our products offer win-win remedies to challenges facing refineries, ranging from regulatory compliance, production, and corrosion. 
Refinery Painting
When painting oil refineries, ensure to obtain outstanding results that would last longer. If you aren't sure about the ideal technique to consider for such painting surfaces, go for spraying—a phenomenal technique that guarantees you the best painting results. 
However, be aware of a few tricks when using the spraying technique:
Prepare the surface thoroughly by clearing all dust, oil deposits, old paint, and debris. Use sandpaper, emery cloth, wire brush, and sandblasting to scrub the surface. Ensure you don't touch the surface with your bare hands to avoid leaving oil behind.

Cover oil refinery surfaces you don't want to paint. Use a masking tape where necessary and a razor blade to trim the excess tape. Ensure you wear disposable rubber gloves to protect selected surfaces against contamination.

Ensure the work is done in a controlled environment – away from sunlight and severe wind.
Using spray paint in oil refineries is vital because it responds within a short period, giving outstanding results. Nevertheless, it's recommended to seek help from recognized companies to handle professionally such projects for you. 
Our clients in Vancouver, BC can testify that our services leave no doubt. Contact us today at 778 928-6768.