Get a Custom Quote
The lifespan of your industrial wall paint varies considerably based on the environmental forces, temperature requirements, and overall paint quality. Whether you're storing food at sub-zero temperatures or running a forge with extremely high temperatures, your paint and coatings will begin to break down at some point. Hydro Tech provides the highest-quality coatings and paints to repaint your industrial wall surfaces in Vancouver, BC. Other factors that cause deterioration are high humidity, pollutants, general wear and tear, and chemical buildup.   
Industrial Wall Painting
A critical component of overall building maintenance is monitoring the condition of wall paints and coatings. Industrial wall painting can extend the life of your facilities, lower repair costs, and improve workplace aesthetics. When determining the condition of your painted surfaces, look for these warning signs:
Faded and cracking paint

Peeling of paint or coating

Signs of rust on metal walls
These issues should be attended to quickly, and the experienced professionals at Hydro Tech can tackle those repairs for you. We use paints that extend the protection far longer than conventional paints and will completely clean and prep the surface area before applying the new paint. In doing so, we bring your walls back to life, making your business look new again.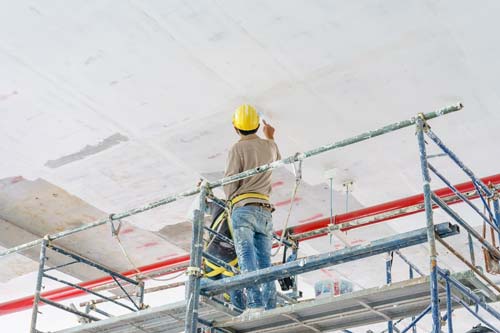 Industrial Wall Coatings
Wall coatings offer more defense against the constant onslaught of the elements and the workplace environment. Industrial walls require extra protection to ensure the structural integrity of the overall building. Coatings seal the paint and protect the substrate from corrosion. Corrosion and rust can cause deterioration that ultimately impacts the integrity of the wall.  
Hydro Tech begins the application process by prepping the area with high-pressure blasting to remove any rust and contaminants from the substrate. Once the area is clean, repairs are made to the wall. Next, we prime the area, paint, then seal with industrial sealant. Whether your walls are concrete, metal, or other materials, our techniques will provide you with a fantastic end product. 
The paint and coatings we provide fall into three main categories: 
Metallic – these coatings break down further into anodizing, diffusion, electroplating, and hot-dip galvanizing coatings.

Inorganic – these are created with porcelain and other materials of the like.

Organic – organic coatings comprise most types of paint, varnishes, and other industrial sealants and coatings.
Determining the best type to use depends entirely on the needs of the business. Our team is ready to start the process of painting and sealing your industrial walls today.
Why These Services are Important
Based on what takes place at the workplace, coatings can vary widely. For fire protection, there is intumescent paint. Coating with this paint will slow fires from burning out of control through the building.  There are coatings to seal out moisture and battle against mold and coatings that offer strength and impact resistance to handle the abuse from machinery and transportation. Our team at Hydro Tech can help determine the proper coatings and paints to use, based on what transpires at the workplace. Contact us today if you're in the Vancouver, BC area for wall, marine, and warehouse painting and coating.